REALITi 360 Version 11.2.1 Now available! copy
| By iSimulate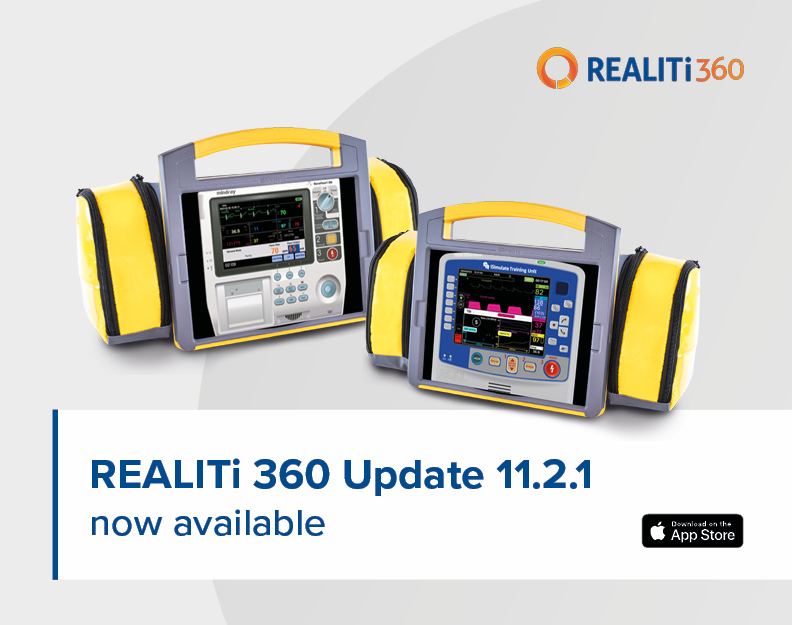 Now introducing the latest version of REALITi 360 — Version Update 11.2.1! Maximize your training experience by updating your REALITi system.
Visit the App Store and update your REALITi 360 today.
What's new?
General improvements:
Reported bug has been fixed: No response on tapping the license update button.
It is now easier to change Atlas's name and Wi-Fi settings.
When attempting to cycle blood pressure at the same time as trended vitals, the blood pressure will now display a result. The reported bug during trend time has been fixed.
NIBP send improvement: added possibilities beyond the value of 180 mmHg.
Corpuls C1 simulation:
Metronome-symbol and QRS-symbol are not shown at the same time anymore.
Possible to disable QRS-tone and metronome during AED-Rhythm analysis.
NIBP Sound and Metronome now work at the same time.
Improved blinking heart symbol.
Filling pie chart can now be done in defib manual/manual.
Corpuls 3/3T simulation:
Corpuls build now shows remote room code.
Fixes translation bugs for measuring d-ecg: "R-EKG Vermessen."
Pie chart is edited for improved visibility when analyze button is pressed before the pie chart is filled.
Disable metronome, if Corpuls CPR is connected.
Mindray D3 simulation:
D3 voice prompt behavior is fixed when using the Mindray D3 manual defibrillator in manual mode and performing a charge.
Zoll R simulation:
Amiodarone is added to the list of drugs.
Zoll X & X Advanced simulation:
Screen behavior fixed when in TBI mode moving to defib (as if the patient codes).
Filtered ECG now shows when CPR is being performed using a CPR band.
For any assistance or questions with this update, please reach out to us at: https://hubs.la/Q01T2gSs0.